Manaslu Trek Permit Cost depends on the month, the total number of days spent in the region and season (Spring and Autumn). Manaslu trekking is gaining popularity due to its restricted route and local village untouched by development.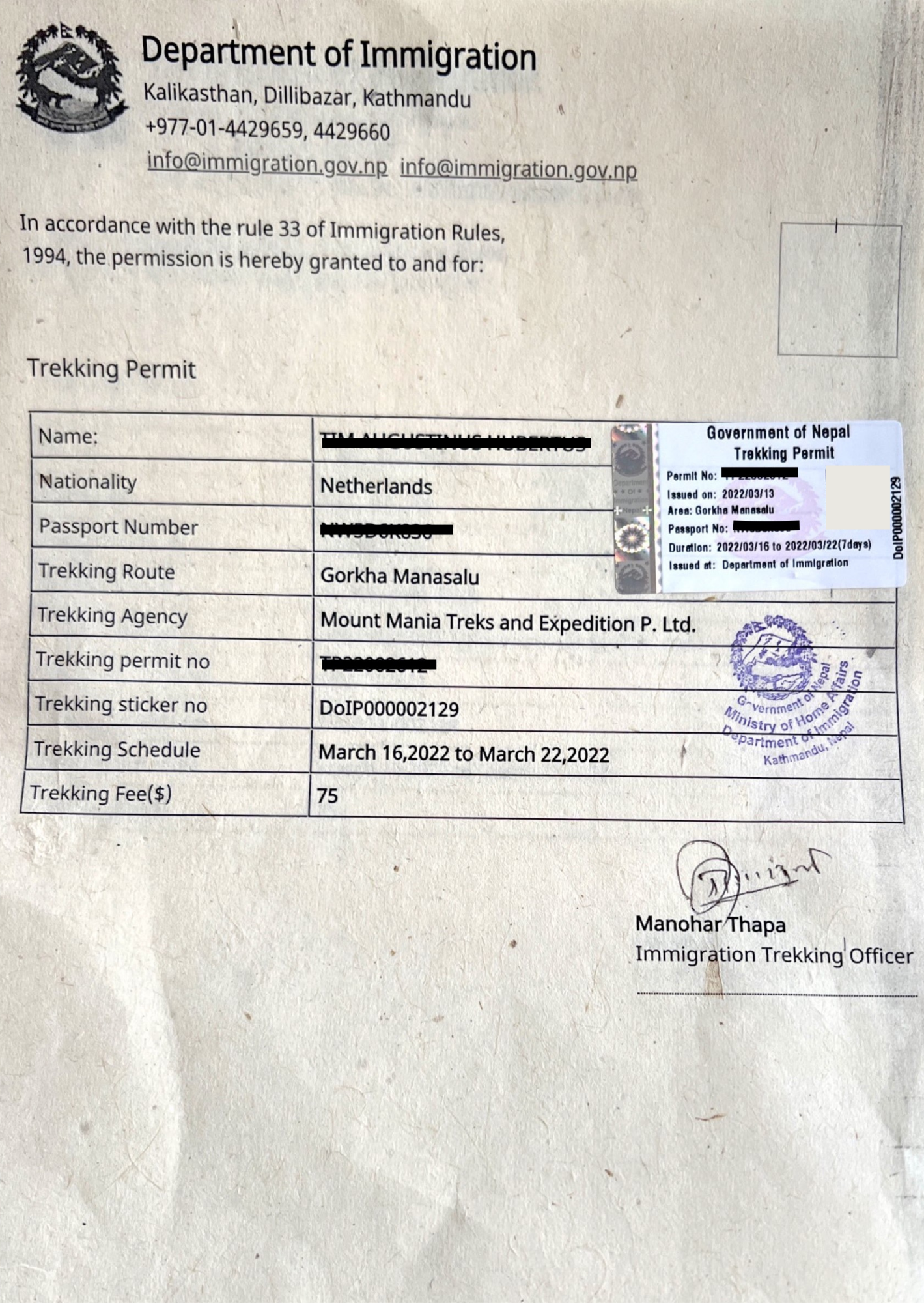 To trek in this restricted region, the Nepal government has protected this area for conserving natural resources and local culture influenced by Tibetan. For Manaslu Trek permits, you need a total of three different special permits issued by the Government of Nepal, Ministry of Home Affairs, Department of Immigration at Kalikasthan, Dillibazar, Kathmandu.
Manaslu Circuit Trek Permit Cost Details:
Three different special permits with cost are:
1. Manaslu Restricted Permit Fee: [UPDATED]
Manaslu trek permit from September to November (Autumn) will cost USD 100 for the first seven days and USD 15 for each additional days
Manaslu trek permit from December to August (Winter, Spring, and Summer) will cost USD 75 for the first seven days and USD 10 for each additional days
2. Manaslu Conservation Area Permit Fee: [UPDATED]
MCAP Entry Fee for SAARC: NRs.1000 per person
MCAP Entry Fee for other nationals: NRs. 3000 per person
3. Annapurna Conservation Area Permit Fee (ACAP): [UPDATED]
ACAP Entry Fee for SAARC: NRs. 1000 per person
ACAP Entry Fee for other nationals: NRs. 3000 per person
If you choose Tsum Valley as a side-trip, then you need to add one more permits – Tsum Valley permit. It will cost USD 35 per person for one week.
Whereas, you can also continue Annapurna Circuit Trek or Annapurna base camp route. You need to apply for the TIMS card. It will cost USD 10 per person.
Manaslu Trekking Permits Terms and Conditions:
For children under 10 years of age, no need to apply for permits
Trekkers need to apply as an individual entry permit for MCAP and ACAP
An entry permit is non-refundable as well as non-transferable and valid for the single entry only
The person entering the Conservation Area shall abide by the National Park and Wildlife Conservation Act, 2029 B.S. (1973) and the Regulations made under this Act
Entry Permits will not be issued from any check posts along the trekking routes of the Conservation Areas. It is only available from Kathmandu and Pokhara tourism board office
Entry permits must be carried during the entire trek and should be shown in checkpoint
Above Manaslu trek, permit cost include 13% Value Added Tax (VAT) and all other government taxes
Top 5 Frequently Asked Questions for Manaslu Trekking Permit
1. How should I apply for Manaslu Trekking Permit?
Manaslu Trekking permit must be applied through the professional trekking agency which must be legally registered under the Nepal government act.
2. Can I apply for the Manaslu trek permit individually?
This is one of the most common questions that most of the trekkers' ask. But, you can not apply individually for the Manaslu trekking permit. The minimum of two trekkers is required to apply for Manaslu special permit from one of the professional trekking agencies.
Note: If you are planning Manaslu Trek individually, contact us we will find out other trekkers to join.
3. Do we need a guide and porter for Manaslu trekking?
As we know, the Manaslu region is located in the restricted area, the Nepal government and concerned authorities have made it compulsory to have one licensed holder professional guide. Whereas, taking porter is optional.
Another major reason behind taking a guide is easy communicating with the local people in a village. The guide will also provide information about the authentic culture of the Manaslu region.
4. How difficult is Manaslu Trekking?
The difficulty level depends on your physical fitness. During the trip, you should be able to walk 6-7 hours a day. Sometimes, we need to walk longer, so be prepared for that. Similarly, at some point like Larkya La Pass (5160m), there is a step down which makes a little harder to pass due to the icy path.
In that case, using crampon on boots to pass the icy path to reach Bimthang would be recommended. As you know, Larkya La Pass is the highest point as well as the longest day in Manaslu Circuit Trek. If you complete this day, then another path is quite easy to trek down around the Annapurna Region.
If you are motivating from the first day then completing the Manaslu Circuit trek is not that much difficult. In between the trekking, the guide will suggest you take a different level of walking pace depending on your destination. This will make your trekking a lot more physical friendly.
5. What is the total cost for the Manaslu Trek and Tsum Valley Special permit?
Manaslu Circuit Trek Total Special Permit Cost:
Winter, Spring, and Summer Season: USD 75 per person for 7 Days. USD 10 for each additional day
Autumn Season: USD 100 per person for 7 days. USD 15 for each additional day
Manaslu Trek with Tsum Valley Total Special Permit Cost:
Winter, Spring, and Summer Season: USD 105 per person. USD 10 for each additional day
Autumn Season: USD 140 per person for 7 days. USD 15 for each additional day
BONUS: How much money should we pay for whole Manaslu Trekking packages?
Manaslu Trekking packages cost depends on service, namely porter, guide, food, accommodation, and transportation. If you compromise on transportation, the cost for Manaslu trek will be a lot cheaper.
For example, if you take a local bus from Kathmandu to Soti Khola and Dharapani to Kathmandu, the cost will be USD 35 per person. Whereas, if you take a private jeep, you have to add USD 100 per person.
It totally matters what services you are looking for and how convenient your trip want to be. Now, coming to the point, Manaslu Trek of 14 days package will start from USD 1150 to USD 1800 per person. With that cost, it will include foods and accommodation during the trip, transportation, special permit, guide, porter and Kathmandu hotel accommodation.
Feel free to contact us, if you are a planning a trip to Manaslu Circuit Trek, we will help you to create a customized itinerary on your specified month and cost.